Arizer Air 2 Review
The Arizer Air 2 portable vaporizer features noticeable upgrades and improvements over the original Arizer Air, such as precision temperature control and an eye-catching OLED screen. The Air 2 dry herb unit still keeps many of the same features that led to the popularity of the first model, like interchangeable batteries and a high quality, durable mouthpiece and airway made from glass, which won't degrade any vapor flavor like plastic can. Many enthusiasts consider the Arizer Air 2 to be the best of its kind when it comes to delicious vapor quality.
IMPROVED BATTERY QUALITY
When vaporizer manufacturers Arizer released their Solo 2 model, it came with a significant upgrade to battery life – 50% more powerful, to be exact. The Arizer Air 2's battery is close to that of the Solo 2, but does fall a bit short in comparison. Even so, the Arizer Air 2 gives you an extra 15-20 minutes of vape time than the original model, which lasted about 60 minutes. Clocking in at a total battery life of up to 80 minutes, you will have no problem with the Arizer Air 2 lasting you all day. The battery takes about 3 to 4 hours to fully recharge.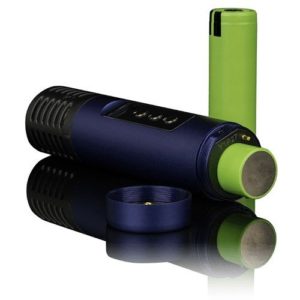 VAPOR QUALITY
For all of its solid features, the original Arizer Air model had a relatively small airflow path, which hindered the size of tokes you could get from the unit and didn't translate the full flavor of your dry herbs. This issue is fixed with flying colors with the Air 2, as the path that the vapor travels down is significantly wider. Couple that with an innovative hybrid heating system, and there's a big improvement in vapor quality when comparing the Air 1 and 2. In addition, the airway for vapor inhalation travels through materials like ceramic, steel and glass – which ensures high quality, rich, tasty hits every time. These components are easily cleaned and don't tend to accumulate a lot of residue.
HYBRID HEATING SYSTEM
The Arizer Air 2 uses both conduction and convection heating. This combination heats your dry herbs more evenly and efficiently, resulting in the highest quality draws and vapor. The warm air rises from the bottom of the vape at the glass stem, which heats up every bit of dry herb inside. This eliminates any need for stirring.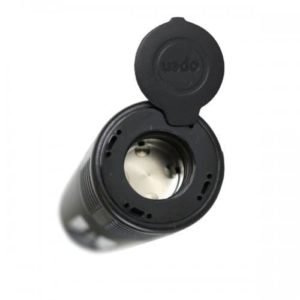 OLED SCREEN
The Air 1's colored light display confused some users, so Arizer fixed that with the Air 2. The new unit has a precise temperature control that is all digitally displayed on a small, but nice-looking OLED screen. This vape is controlled with simple buttons that allow you to decide what temperature you'd like: anywhere from 122 – 428 degrees Fahrenheit. You can scroll up or down your desired temperature at either one or ten degree increments. Like most vapes of its kind, this unit also comes with a timer that shuts the device off automatically. Setting the Air 2 apart from the rest in the auto-shutoff aspect is the Air 2's ability to set your own auto shut off time, and even deciding how loud you want your reminder tone to be.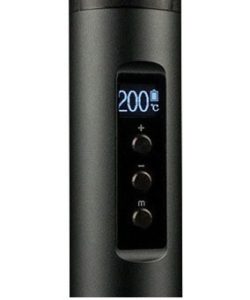 HEAT UP TIME
The longer heat up time is perhaps one of the only knocks on the Air 2. The Air 2 gets up to 390 degrees in about 80 seconds, which isn't a huge upgrade on the Air 1. The Air 1 heated up to 410 degrees in 115 seconds, which was the highest it could go. The Air 2's highest temperature is 428 degrees, and it gets there in about 100 seconds. If you're looking for a vape that gives you those quick twitch tokes, you might want to look elsewhere. But if the fast, on-demand vaping style isn't your thing, the Arizer Air 2 could be for you.
STANDARD WARRANTY
The Arizer Air 2 comes with a warranty that lasts for two years, covering any defects or issues with the device that you didn't cause. Most portable vaporizers in its class come with the same kind of warranty, but Arizer also offers a lifetime warranty on the heating system, which is a nice touch.

EASE OF USE AND HIGH FUNCTIONALITY
This vape is not very hard to keep clean, as long as you take a few precautions. After every session, empty the herb chamber completely, and never pack the bowl too tight. The glass stems see the most amount of residue caked on, but just soak them in isopropyl alcohol and rinse with warm water, and your vape will continue to work fine.
At about only .15 grams, the Air 2 is on the smaller side when it comes to portable vaporizers, but the heating chamber/ bowl is very easy to pack. You don't even necessarily have to grind your herbs up to load up the Air 2, just put the whole herb in there without over packing. This is a good thing, because this unit does not come with a grinder.
OUT OF THE BOX USABLITY
Right out of the box, The Arizer Air 2 gets you started vaping dry herbs easily. The unit comes with a glass mouthpiece and one with a tip, stem caps made from silicone, the interchangeable battery, a USB charger and an aromatherapy sample. The aromatherapy sample is interesting, as some users might not realize that some portable vaporizers can also perform as aromatherapy devices.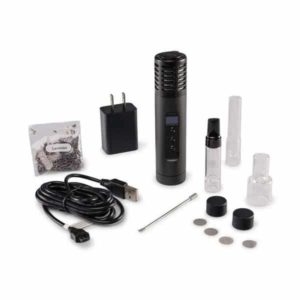 SPECIFICATIONS AND DIMENSIONS
The Arizer Air 2 weighs in at 4.88 inches high, and its diameter is about 1.15 inches. Some users seem to think that this unit looks like the base of a light saber from Star Wars. Either way, the ergonomic design fits nicely in your hands.
CONCLUSION
If you aren't concerned about quick heat up times for fast vaping and don't expect to pack a half gram in every bowl, you will be satisfied with your purchase of The Arizer Air 2. The vapor quality is absolutely top notch. Obviously, this is aided by the glass components, but if you're doing a lot of traveling with your vape, you might want to take some steps to make sure the glass parts don't break. The Arizer Air 2 offers vapor quality that stands up to just about any other portable vaporizer on the market today.
Was this review helpful? Do you think the Air 2 is best suited for you? Let us know in the comments or if you're not quite sure and still would like to read more reviews, please visit our review page.
Thanks for reading!

---
---